News
Conference poster, March 25, 2013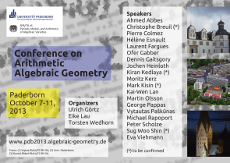 We have produced a conference poster. Click the image for a larger version. There are a few copies left, so if you would like to have one mailed to you, please drop us an email.
Registration is now open ..., Feb. 25, 2013
This is still a preliminary version of the web site, Nov. 26, 2012
... further details will follow soon.